2011 Coca-Cola "Artic Home"



This year Coca-Cola partnered with the World Wildlife Fund (WWF) to raise awareness and money to help "Save the Polar Bears." As part of this campaign, Coca-Cola decided they would put polar bears on their Coca-Cola cans.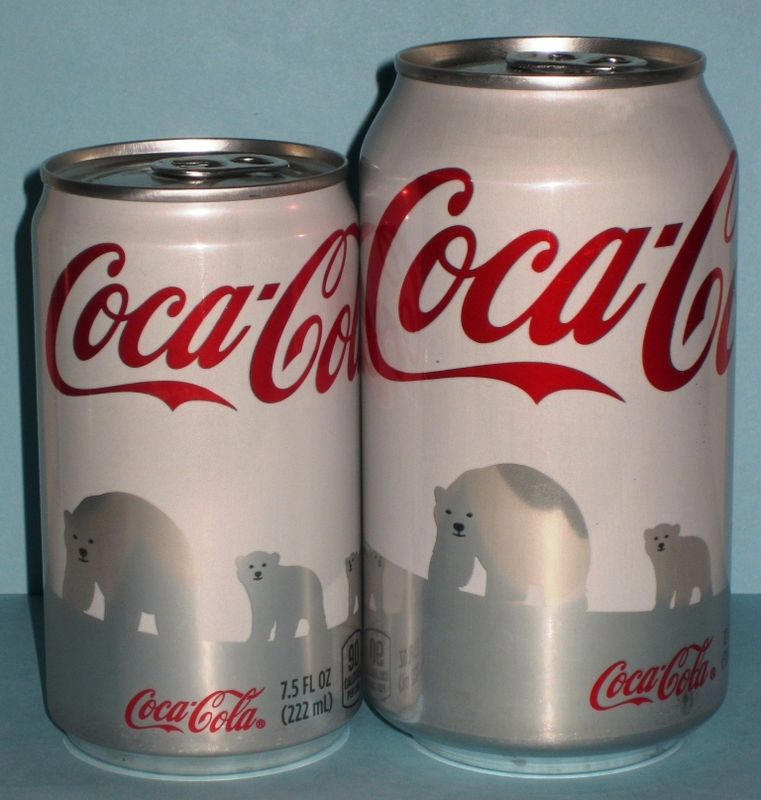 Coca-Cola made a public announcement on October 25, 2011, in the United States that beginning in November 2011, they were going to release the Polar Bear can design on their flagship brand, Coca-Cola.
To make the cans stand out, they proposed something that had never been done before… make the Coca-Cola cans white.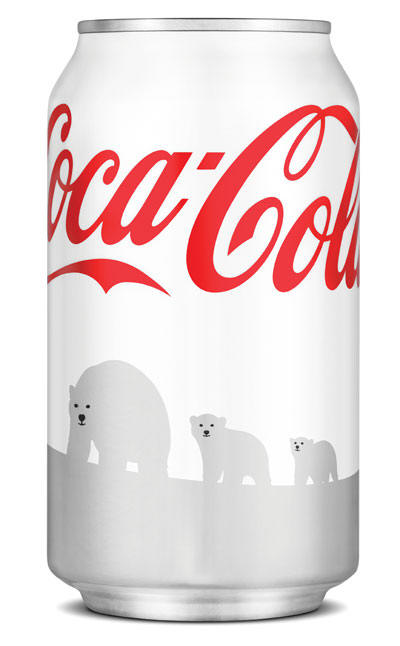 The release window for these cans was slated to be from November 1, 2011, until February 2012, with 12-pack cases for the 12 oz. (355 mL) size and in 8-packs (with a special red plastic band holding the cans together) for the 7.5 oz. (222 mL) size.
The can designs showcased a solid white background with a mother polar bear and two cubs in silver. The polar bears are walking across the silver snow in the Arctic. Not only was the red background turned white, but the white Coca-Cola logo was now red. Both cans display the text, "Protect the Polar Bear's Home. Join us at COKE.COM/ARCTICHOME."
The design looks great. It was a very bold move by Coca-Cola to change history by changing the color of their cans.
Coca-Cola was very excited about this promotion to help the WWF and the polar bears. They made an initial donation of $2 million to the WWF and invited Coca-Cola consumers to make a $1 donation to the WWF by texting the package code to 357357. Coca-Cola also promised to match all donations made with the package code by March 15, 2012, up to a total of $1 million.
Fast forward to the beginning of December 2011, when Coca-Cola learned a very important marketing lesson concerning branding. For those not familiar with this concept, it encompasses recognition of a product, most notably visual aspects of the brand such as a logo and colors.
For example, everyone associates dark blue with Pepsi, green with Mountain Dew, orange with Sunkist, and red with Coca-Cola. Coke themselves have promoted an initiative they called "Red-Black-Silver" to denote their regular, Zero, and diet lines. Let's not forget that Coke Zero originally was released in white packaging here in the U.S., before eventually setting on the black color used today. Other companies, such as Pepsi (with Pepsi Max) and Dr Pepper Snapple Group (with Dr Pepper Ten) have adopted this color association of black/grey to mean "calorie-free soda" aimed primarily at men vs. "diet soda" which finds more favor with women.

Perhaps we'll never know why history had to repeat itself, but it did. Last week, countless articles appeared in print and online in many news sources including The Wall Street Journal reporting on the backlash from consumers concerning the white and silver Coke can. The headlines were very creative… "A Frosty Reception for Coca-Cola's White Christmas Cans" (WSJ) and "Green promotion with white cans has consumers seeing red" (Examiner.com). Consumers felt tricked as many thought the white cans were actually Diet Coke cans. Numerous cans were returned and consumers received refunds for unopened cans from retailers.
Diabetics complained that they were also fooled by the color of these cans and their health was affected by the extra sugar. Flight attendants were reported serving the white cans to passengers asking for Diet Coke because the cans looked like Diet Coke. Many of those that correctly read the labeling claimed that the formula changed and that the soda in these cans didn't taste like regular Coke, but instead it tasted closer to Diet Coke. There are even YouTube videos with people performing blindfolded taste tests claiming that Coke out of a white can tastes different than out of a red can. Finally, Coke purists called the color change on Coca-Cola's 125th Anniversary blasphemous.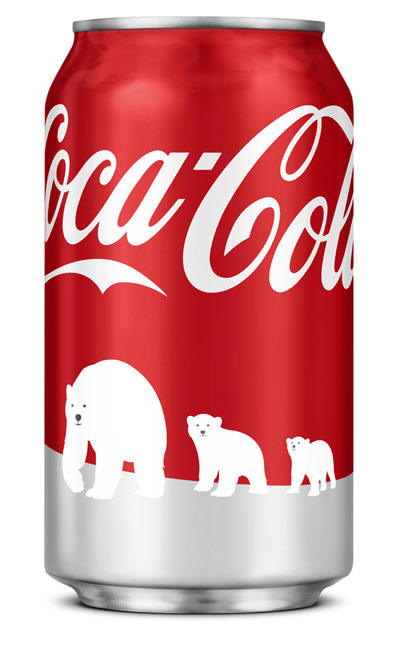 In response to this backlash, it was reported that Coca-Cola decided to pull all of the white cans off of the shelves and replace them with red cans. This information later changed to Coca-Cola not pulling the cans, but instead, stopping production of the white cans. Coca-Cola planned on selling the rest of the existing cans and phase in red cans of the same design.

As an attempt to save face, Coca-Cola published a press release on December 1 announcing that the red polar bear cans will be hitting shelves in early December. In the release, they stated , "People have told us that they love the limited edition white 'Arctic Home' Coca-Cola cans, and we know they love our iconic red cans, especially during the holidays. So we're introducing the next limited-edition 'Arctic Home' can, which will still feature the same polar bears, but with our iconic red Coca-Cola background." There no mention of any customer complaints or the similarity to Diet Coke.

In fact, Coca-Cola went as far to create an updated (and unannounced) Coca-Cola Holiday Cans Fact Sheet (PDF) which was publicly available on their website detailing the can design release schedule and the differences between the white cans and the Diet Coke cans. Please note that this fact sheet is linked to from a Company Statement dated November 15, 2011.

Phase I – (Nov. 1 – Dec. 2): Coca-Cola White "Arctic Home" 12 oz. Can
Phase II – (Dec. 2 – Feb 2012): Coca-Cola Red "Arctic Home" 12 oz. Can
Diet Coke "Holiday" 12 oz. Can [no dates mentioned]
Coca-Cola "Arctic Home" 7.5 oz. Mini Can [no dates mentioned]
Diet Coke 7.5 oz. Mini Can [no dates mentioned]
Here's where the story gets strange, as if Coke is attempting to rewrite history. If you view the properties of the Coca-Cola Holiday Cans Fact Sheet (PDF), you can see that it was created from a Word 2010 document by "mdoser" on 11/30/2011 12:24:06 PM and Modified on 11/30/2011 12:32:29 PM. This is well after the November 1, 2011, release of the Arctic White cans at the beginning of the promotion, and after the November 15 date on the Company Statement that links to it within the text of the statement. It's as if Coca-Cola wants to brush this whole debacle under the rug and have the public forget about it. Are they thinking they can trick us into believing that this was the plan all along? As a can collector I welcome the white and red cans into my collection. As a consumer, I have lost respect for Coca-Cola, not for turning the cans white, but for not being honest enough to admit they failed.