Pepsi-Cola History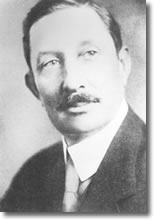 In 1893, Caleb Bradham, a young pharmacist from New Bern, North Carolina, begins experimenting with many different soft drink concoctions. Like many pharmacists at the turn of the century he had a soda fountain in his drugstore, where he served his customers refreshing drinks, that he created himself. His most popular beverage was something he called "Brad's drink" made of carbonated water, sugar, vanilla, rare oils, pepsin and cola nuts.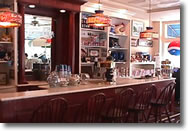 One of Caleb's formulations, known as "Brad's drink", created in the summer of 1893, was later renamed Pepsi Cola after the pepsin and cola nuts used in the recipe. In 1898, Caleb Bradham wisely bought the trade name "Pep Cola" for $100 from a competitor from Newark, New Jersey that had gone broke. The new name was trademarked on June 16th, 1903. Bradham's neighbor, an artist designed the first Pepsi logo and ninety-seven shares of stock for Bradham's new company were issued.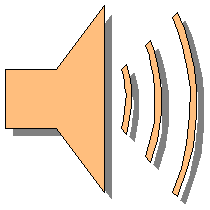 Listen to first Pepsi-Cola radio jingle 1939
One of the first ever Pepsi:Cola delivery carts

Marshall and John Condon pose in 1928 in
front of their Woodland Pepsi-Cola delivery truck.

6.5 ounce Pepsi Cola bottle from Richmond Virginia.
The bottle has eight sides, with the Pepsi Cola logo in raised
lettering on every other side. It has the double dot logo.
"Pat. Applied For" is on the bottom.


Pepsi Phrases and Logos

The Pepsi marketing phrase has also changed many times. The marketing folks at the company felt free to invent new
phrases whenever they thought the public would be receptive to the change. Here they are in order from the start.

Year
Phrases
Logos
1893 - 1898
Brad's Drink
1898 - 1905
"Exhilarating, Invigorating, aids Digestion"
1905 - 1906
Delicious and Healthful

1909 - 1939
"The Original Pure Food Drink"
1934
Pepsi Begins Selling 12-ounce bottles for 5 cents.
1939 - 1950
Twice As Much For A Nickel Too
1950-1963:
The Light Refreshment

1953-1961:

Be Sociable

1961-1963:

Now It's Pepsi For Those Who Think Young

1963-1967:

Come Alive! You're In The Pepsi Generation

1967-1969:

Taste That Beats The Others Cold

1969-1973:

You've Got A Lot To Live, Pepsi's Got A Lot To Give

1973-1975:

Join The Pepsi People Feelin' Free





1975-1978:

Have A Pepsi Day

1978-1981:

Catch That Pepsi Spirit

1981-1982:

Pepsi's Got Your Taste For Life!

1983-1983:

Pepsi Now!

1983 - 1991

Pepsi, The Choice Of A New Generation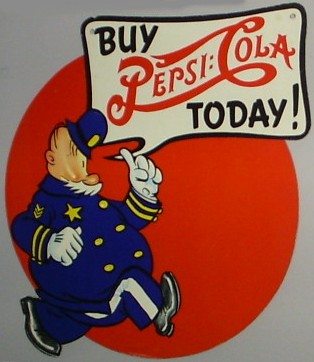 In 1939 Pepsi-Cola tried to buy Popeye the Sailor Man as part of an advertising program targeted at families. Unfortunately the price was too high for Pepsi-Cola, so they opted to create two loveable characters - Pepsi and Pete, the Pepsi-Cola Cops! The inspiration for Pepsi and Pete was the ever-popular Keystone Cops from the silent movie era. The premise of Pepsi and Pete was that they would always insure that every bottle of Pepsi-Cola contained 12 full ounces, while maintaining the pure quality of Pepsi-Cola.

Pepsi and Pete were used from 1939 through 1951. They appeared in numerous magazine advertisements, and had a weekly appearance in the Sunday funnies. Besides being used on cardboard and paper signs, they were also used on metal signs, promotional glasses, paper cups, napkins, and bottle toppers.

In the early 1940's, Pepsi and Pete were so popular that Pepsi-Cola hired actors to dress up as Pepsi and Pete and make personal appearances.

Because various artist drew Pepsi and Pete over the years, they had a tendency to interchange their names. No one can really say which one is Pepsi and which one is Pete